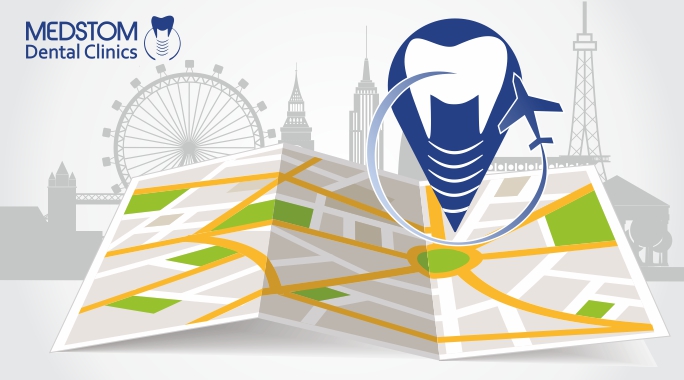 The Dental Tourism is the best way to combine dental treatment and vacation out of your country.

High quality of Dental treatment made by well qualified Bulgarian specialists and dental surgeons along with the low prices made many people from different countries to choose Bulgaria for their health problems. They received first class dental service and made an unforgettable vacation. The dental treatment and dental implants prices are several times less expensive compared to the services in Europe by using the same materials and techniques as in Switzerland, France or USA.

Dental Clinics Medstom is positioned in the heard of Sofia. Its high qualified specialists are working fast, very professional and qualitatively. The clinics equipment is modern and new made by the best producers in this domain.

Bulgaria is a lovely country rich of natural beauties and breathtaking court-sides. It becomes more and more attractive destination for many tourists not only from Europe but also from abroad.

The capital of Sofia combines possibility for city breaks and fresh air mountain escapes. The climate is more than pleasant – sunny and milled winter and hot summer. There are many cultural and historical sights which makes the capital of Bulgaria a preferred place for recreation and treatment.
Dental Tourism - Questions and Answers

Why Medstom Clinics?
Advantages:
✓ More than 18 years of experience;
✓ 15 highly qualified specialists in all dental fields /implantology, surgery, aesthetics, prostheses, etc./;
✓ 2 dental clinics positioned in the very center of Sofia which facilitates the access;
✓ Advanced equipment, innovative technologies, 2D and 3D X-rays;
✓ High quality materials from leading global manufacturers from /Switzerland, France and USA/;
✓ You will be welcomed in several different languages (French, English, Italian, Greek, Turkish and Arabic);
✓ Thousands of satisfied patients from all over the world;
✓ Low prices for superior quality of service.
How to I get to Sofia?
It is very easy to come to Sofia. Our Dental tourism Manage will help you with everything you need to organize your trip.
Which airlines to choose?
There are many direct flights to Sofia. All European airlines serve our destination. Some of the low-cost companies having direct flights are Wizz Air, Ryan Air, EasyJet and many others.
How do I get to the clinic from the airport?
Our driver will meet you at the airport and will take you directly to the hotel or the clinic.
What will be the price of the treatment?
All prices of our services you may find on our web page. One of our specialists will prepare for a treatment plan according to your needs.
Are there hidden costs along of the threatment?
No additional expenses will be needed. This will save you more than 50% on the same services in your country.
Do I get guarantees for the services??
We offer life guarantees on our services and materials in condition you follow strictly the recommendations of our specialists.
How long the procedures will take?
The exact time needed for the manipulations will be set upon your first free consultation with our specialists. Please contact us and we will assist you.
How long do I need to stay in Sofia?
Your treatment plan will be set before your arrival in Sofia. The standard procedures take around 5 to 8 days.
How can I spend my free time in Sofia?
Bulgaria is one of the countries in Europe with more than 1300 years of history. Mysterious temples, incredible golden treasures with a history dated 5000 BC. Bulgaria is also the motherland of the mystical Orpheus. Here you may find beautiful nature, ancient history and reach culture heritage. Bulgaria is world known by its amazing food and restaurants.
To whom shell I address if I have any questions?
During your stay a colleague of ours will assists you at your language. He will be at your disposal for any kind of information and questions.
Our Motto is: "CARE AND RESPONSIBILITY FOR YOUR HEALTH". Here in Medstom Clinic we implement not only our best practices in the treatment of our patients but also the world's best and modern trends of medicine and dentistry. We work with the most advanced equipment and with high quality materials from world's leading manufacturers. We provide a wide range of medical and dental services performed by prominent specialists in all aspects of dentistry and medicine.

We will prepare a special treatment plan and consult you over the telephone or by email about the possibilities of organizing and conducting it. Please contact us or send your panoramic X ray photo on our e-mail: [email protected] and we will provide you with our best offer.